Slug Bug! - Cruising Beach Side!
Firefly Art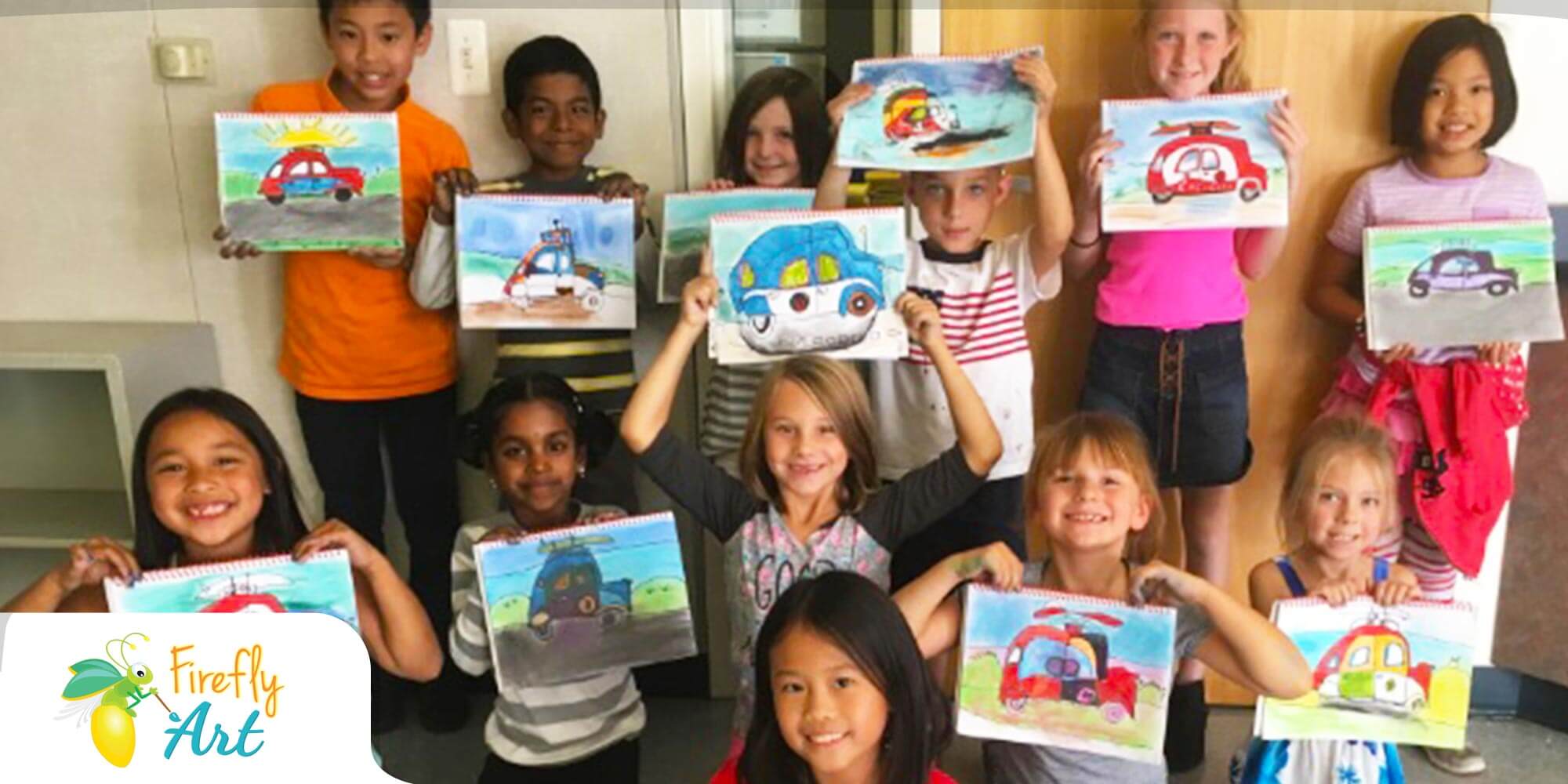 This week we took our project beachside by drawing a Volkswagen Beetle cruising by the beach!
After a few Firefly Art classes under our belts, we felt it was appropriate to draw inside our very own sketchbooks! This way we can fill the remaining pages with our own projects using the art techniques we've learned and fine-tuned so far.
While drawing our beach scene, we explored two different media. We used Prismacolor markers for the Volkswagen Beetle, then switched to soft pastels for the background. These contrasting mediums exaggerated the car with brighter, bolder colors, and highlighted the beach scene with softer strokes of color. Playing with these two mediums was fun during the creation process!
This project included:
Brainstorming what our cars are taking to the beach and who we will meet at the sandy shores.
Exaggerating the foreground image with Prismacolor markers.
Highlighting the background with soft pastels to add wisps of color.
Family Activity:
What did the Pacific Ocean say to the Atlantic Ocean? … Nothing, it just waved!
Have you heard about the restaurant that caters exclusively to dolphins? … It only has one customer, but at least it serves a porpoise!
Where does seaweed look for a job? … In the 'Kelp-wanted' ads!
What happened to the shark that swallowed a bunch of keys? … It got lockjaw!
Thanks for driving by this week's project recap! Stay tuned for next week's transformation from cruising beach side to a pueblo in the desert!
From the Firefly Art Team to you – Keep Dreaming!
1820 Tribute Road, Suite F, Sacramento, CA 95815
916-419-7644
[email protected]

Picture Disclaimer: Any photos shown in this blog post are from recent classes in the greater Sacramento area. Photo locations will vary each week.
Join the club!
Join our VIP (Very Important Parent) Club! Be the first to find out about upcoming classes, specials, and discounts.