Easy Ways to Engage Young Girls with Building Toys
Early Engineers
Playing with building toys like blocks, Legos, and K'Nex can encourage a basic understanding of engineering concepts and free-form play creativity. Yet these activities are often seen as a "boy" thing, and girls can be reluctant to engage. Let's discuss some easy ways to get your girls playing with building toys.
Construction toys have been shown to help children develop:
Motor skills and hand-eye coordination,
Spatial skills
A capacity for creative, divergent thinking
There is also evidence that complex block-play is linked with advanced math skills in later life. The challenges that girls face is that building sets are marketed as a "boy's activity". Girls are often attracted to story-based play. Building sets and blocks can feel unemotional. Building kits are often structured – you follow directions to get a specific end result; many girls prefer some creative flexibility.
So how can we adjust the perception of building toys? By adding other items to the play area such as beads, fabric in bright colors with various textures, silk flowers, removable stickers we can change the perception that building with plain plastic blocks is the only way to build. Adding photos of friends and loved ones to blocks has other benefits too. Little ones will be drawn toward stacking as they add an emotional attachment to the building process. You can purchase photo blocks from a company like One Step Ahead, or you can make your own like we did in the video.
As kids get older they may already have an attachment to their favorite toys. You can explore ways to incorporate their favorite toys, for example if your daughter loves playing with dolls, encourage her to build a castle for her princess. Or if she's into My Little Pony, build a stable for the ponies.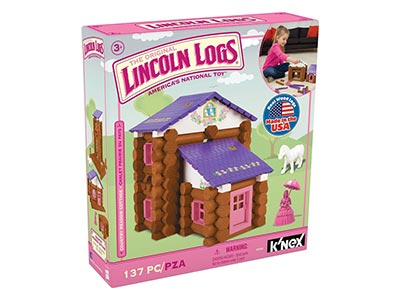 K'Nex Lincoln Logs Country Meadow Cottage is available for $30. It includes figures that can be a man or woman, a pony and stickers. The idea is that your child can build a house and instructions are provided for that, however, children can get creative & build other things. This is great for 3-5 year olds.
Structured block play is when a child tries to recreate a construction by consulting a model or blueprint. Kids must analyze what they see, perceive the parts that make up the whole, and figure out how the parts relate to each other. This requires quantitative thinking and being able to rotate geometric shapes in the mind's eye. This further develops their spatial reasoning skills.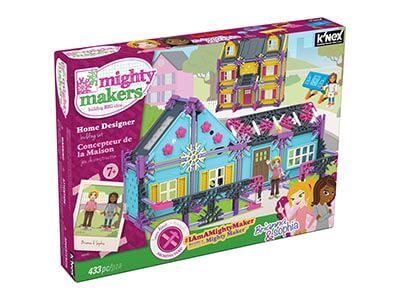 It's GREAT that brands like K'Nex and Lego are moving beyond Spiderman and Avengers sets to reach out to girls, but its more than just making a pink or purple set. Seek out building sets that tell a story and include characters, for example a restaurant, grocery stores or houses.
K'Nex Mighty Makers Home Designer Building Set costs about $40. It includes a story-based, color-coded building instructions to build a Colonial and Ranch style house. There are instructions for 2 more builds available online. This challenges the builder to explore additional architecture concepts.
Overall, we want our girls to continue to hone their spatial abilities and build confidence in this area of STEM. Research shows that girls tend to shy away from the STEM subjects as they reach high school and college and our hope is that we can give them the confidence and skills they need to actively participate and succeed in these subjects. Ultimately, we want all of our kids to be prepared for all the STEM related jobs that are projected to grow exponentially over the next decade.
Stay tuned for a big announcement next month about a new online assessment we are rolling out to gauge your child's spatial ability and specific activities you can do to help them sharpen these skills. Join our email list to be the first to know about this great resource to help you shape your child's education.
Join the club!
Join our VIP (Very Important Parent) Club! Be the first to find out about upcoming classes, specials, and discounts.